Mylena Vocal Coach Interview by Oltre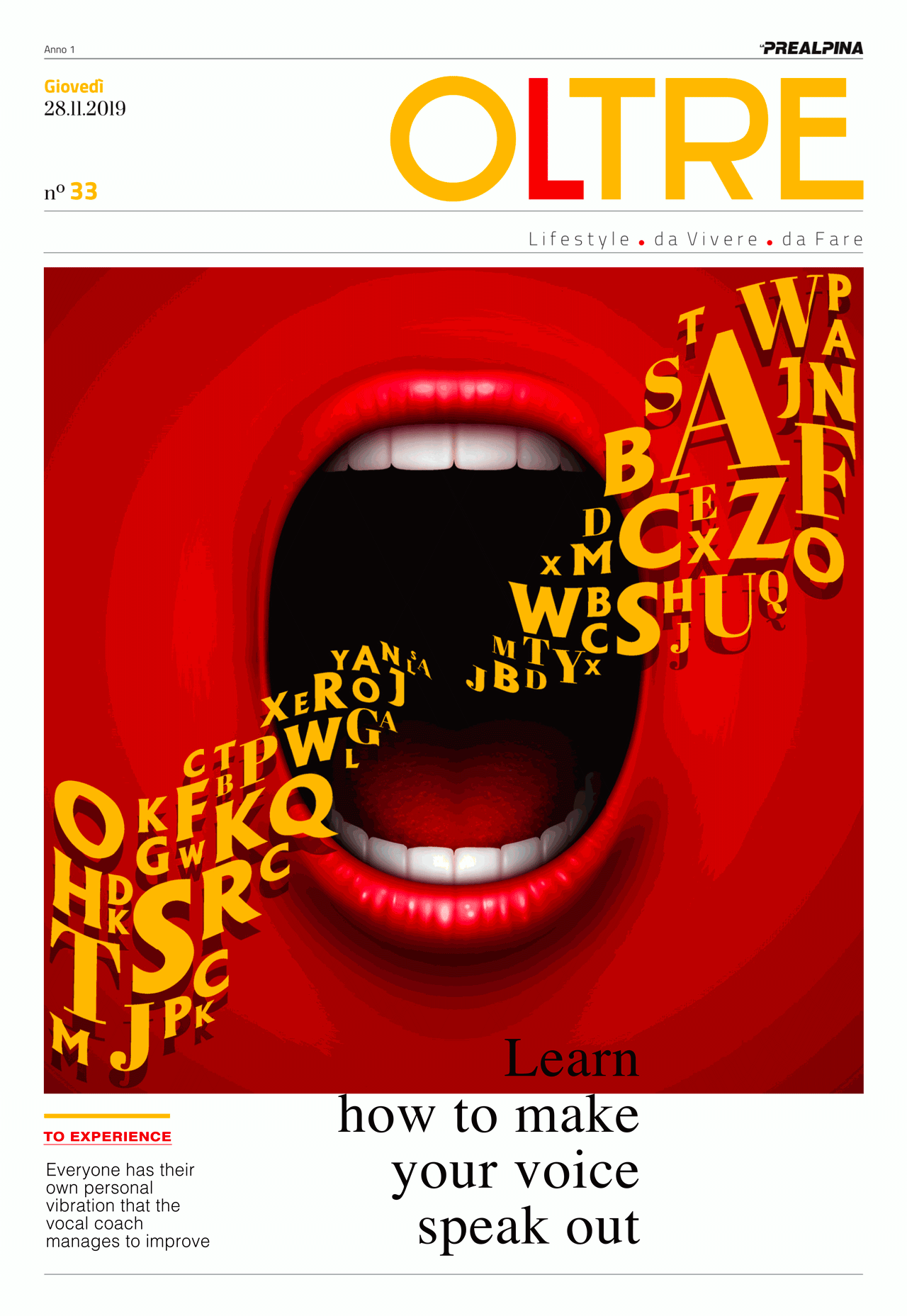 Mylena Vocal Coach today has got the cover and two-page interview on the weekly issue of the magazine Oltre, published by La Prealpina. The interview il finally more related to the quantum and vibration level of the Inborn Voice training method and not only the "traditional one".
Here is the full article, translated for you from the La Prealpina website:
"Inborn Voice!" – Learn how to make your voice speak out!
Say goodbye to those boring, dull, graceless voices. We can work on ourselves and set our voices free. And have a charming and truthful voice. There is now hope for everyone: it is a reality to be able to speak and be heard by seeing people hanging from our lips. Yes, because let's face it, we all want to have a lovely voice.
It's not a fashion, but by now the trend is clear: it's to exploit the real "voice power". Who knows what's the secret behind the incredible power of the sound of the human voice and how to use it. t: Mylena Origgi is absolutely sure to help everyone. She became known as The Voice Guru worldwide and she specializes in teaching how to get your real voice out. And give confidence, because there are no bad voices.
Her method, which literally drives the United States crazy, and not only them, is called Inborn Voice (inbornvoice.com), which translates into finding our true voice, the one we had at birth.
Origgi, who is currently in Europe and on Sunday, December 1, is in Milan for a workshop before returning to Boston where she now lives permanently, teaches and writes books, the last one is The Way of the Voice.
The secret of her success? It starts from her own voice. For those who do not understand either singing or quantum vibration, the concept is much simpler and more intuitive. "For me the voice is made up of vibrations that bring a different quantum frequency. It's a resonance of vibrations with people – explains the Voice Guru -. I'm not talking about the colors of the voice, for me it's about expressing our soul".
Pure energy that vibrates and passes through people, hitting them in depth, in the most instinctive and non-rational areas of the human being. "My work consists in knowing the most intimate voice, through new energy, like the choice of a dress. Many times we hear complaining "I don't like my voice": my message is positive because it can be improved in an unlimited way, with the power you want depending on the time you dedicate".
It's a journey that has been and still is a huge success in the United States, everyone turns to the Voice Guru, from TV presenters to singers to show business personalities. "In Boston are the university professors who come to me because their career also depends on the voice that influences the way they teach: a teacher with a boring voice will have students with less success at the exams. And so it's a necessity instead to make people learn successfully. A captivating voice is also reflected in the student's success.
The voice now reflects the success and status of a person, but on condition that you respect a rule. "It must be true, authentic – underlines Mylena -. You cannot cheat or act, no fake. A theme very dear at this time to the world of information but also to the Anglo-Saxon world. Everything that is fake is not welcome, there is a need for authenticity and truth. That's why Inborn voice works because my talent is to bring out who we are through the voice, maybe it's a philosophical way but you have to start from ourselves, for me it has to do with a divine dimension to find a positive spiral. We need authenticity and trust: speaking with our own voice allows us to be genuine".
There are also considerable benefits at the psychophysical level: "The vibrations always reach us: we think of a butterfly that flies away fast. Here, even the voice reaches the deep part and settles in the body and you realign". So forget about vocals, exercises ba-ba-ba-ba ma-ma-ma, this is a method to find the voice: "Listen and listen to yourself, finding a connection with yourself. For me there are mantra words that each of us has and repeating them helps, then there are words that block us repulsive. My talent is recognizing them by talking and working with people, working on self-esteem while everyone destroys it. And it seems to work, as thousands of people turn to Mylena. Even here in Italy: from Giovanni Scialpi to actor Dino Spinella and the Youtuber Daniel Marangiolo of IPantellas.
We offer world-class training to improve your personal, social and business communication skills. We specialize in presentations, leadership, media training, interviewing and Executive speaking.
Inborn Voice shapes tomorrow's leaders.

Leaders choose Inborn Voice
Any questions? We'll get back to you!
Are you looking to improve your voice with individual lessons, classes, or have any questions?
Fill out the form below!
Learn more about Inborn Voice
and Mylena Vocal Coach: