I want to learn how to use my voice… like this!
Today with great excitement I see my work and passion shared on one of my favorite blogs "I want to live like that"!
This blog is very popular because the topic of "travel" combined with lifestyle change is very much loved by those who do not feel comfortable in the place where they are born and raised and want to find a better life and more opportunities. Of course, to desire not to put into practice, and here our Inborn Voice can come in handy.
Inborn Voice and my work then fits in and integrates perfectly with these experiences so brave, original and for some even "crazy".
Emotions, vibrations and enthusiasm are the leitmotiv of my method. Presenting my book in Manhattan almost 25 years after my first visit to New York City is an indescribable emotion. Those skyscrapers seen from below look majestic and face the sky, just like your Inborn Voice, which just wants to come out into the open to take you to the sky. During the event I will guide you to rediscover what makes us feel alive and makes us find the courage to express ourselves, share, feel part of this world, making our energy and who we really are resound.
Ready to be tuned with your soul?
Here is the original content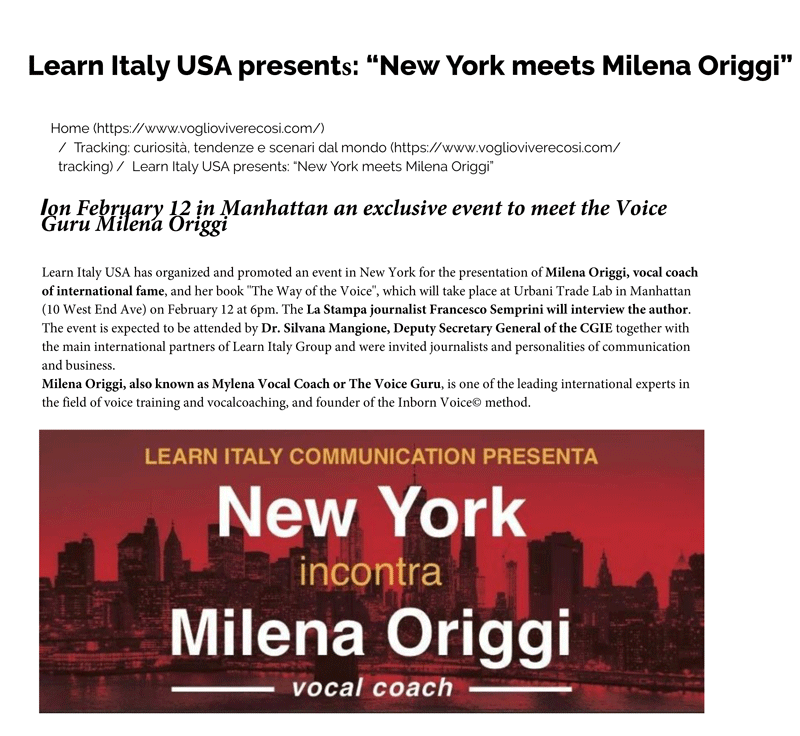 We offer world-class training to improve your personal, social and business communication skills. We specialize in presentations, leadership, media training, interviewing and Executive speaking.
Inborn Voice shapes tomorrow's leaders.

Leaders choose Inborn Voice
Any questions? We'll get back to you!
Are you looking to improve your voice with individual lessons, classes, or have any questions?
Fill out the form below!
Learn more about Inborn Voice
and Mylena Vocal Coach: