Principles You Must Follow in Order to Avoid the Awkward Silence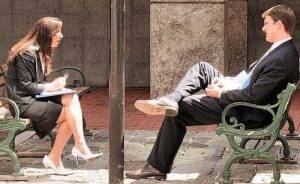 Have you ever attended a social gathering, walked up to the stranger, talked for 5 minutes, then never speak with them again? We all know that you would not become friends with everyone you ever met. However, as our life goes on, we do have the need to constantly develop new friendships. Friendships also change as interactions with each other can increase or decrease, for example, you talked to your college friends every day in college but the interactions dropped off when some of them moved back to the place where they came from after graduation. That is okay and that's why we need to start new conversations and develop new relationships with new people.
Starting a conversation happens basically anywhere, from career fairs to coffee shops and it is an important skill to pick up in life. So, we are here to tell you what you are doing wrong that resulted in an awkward 5-minute conversation.
No Questions Please!!!
In a family gathering like Thanksgiving, you often see relatives that you only see once a year. You are probably annoyed by the same questions these relatives throw at you every single time such as "What do you do" & "Where do you live". It is no different when you meet a stranger, nobody likes to answer those questions or they even have created a script for those questions. Also, we think we should all know questions like "What are you doing this weekend?" or "What's going on" are not going to lead you to anywhere and just end in an awkward silence.
Let's make this clear, we are not encouraging you to not ask questions but our objective is to get people to talk more about them. It is important to know not to ask questions in order to start conversations. We don't want to bore our counterparts and make them nervous which resulted in a premature end.
Don't be Negative
We all have our feelings and sometimes it is okay to express your negative feelings and opinions to someone you know well. However, in some situations, people would be turned off by the negative opinion or sometimes insults. Here's quick story to illustrate my point.
Hotel Receptionist: Where are you from?
Me: Boston
Hotel Receptionist: I hate Boston. I went there last winter and the snow freaked me out. Not going to visit again for a long time.
Me: Uh…
I get that it does snow a lot in Boston, but there is no need to bash on the place where I live. Not only did I receive the negative opinion about my city but also ended the conversation quickly.
Compliment
If a friend or a co-worker changed their hairstyle, you can say, "You got a haircut?" or "Your hair looks great!" Both deliver the same message but you can clearly tell the latter is the better choice. When you make a compliment, it is crucial to make sure you deliver your message clearly. A compliment like "You smell like you just came back from the beach. No one can tell if that is a compliment or an insult other than the speaker himself. However, we all can tell that is not a great conversation starter.
In order to keep the conversation going after a compliment, you can ask a question. Wait, what happen to the no question part? Yes, that is true but you can ask a question that won't annoy people. Let's illustrate this point with a story that happened to me, I recently purchased a pair of new shoes and walked into the office. My co-worker asked me, "I like your shoes, where did you get it?" Not only this started a conversation but it is also a compliment. After I told him the location, she told me, her brother's birthday is coming up and that would be a perfect gift for him.
It could be difficult for people start a conversation with a stranger. However, by making that first step and keeping that conversation going, you could end up with a great friendship. By following the 3 principles above, you would never have the awkward 5-minute conversation again.
Contact Inborn Voice for more tips on how to speak more clearly and using your voice more effectively. We offer voice & speech lessons and therapies, public speaking training, and interview preparations. We are located at the Cummings Center in Beverly, MA while offering lessons worldwide via Skype.
We offer world-class training to improve your personal, social and business communication skills. We specialize in presentations, leadership, media training, interviewing and Executive speaking.
Inborn Voice shapes tomorrow's leaders.

Leaders choose Inborn Voice
Any questions? We'll get back to you!
Are you looking to improve your voice with individual lessons, classes, or have any questions?
Fill out the form below!
Learn more about Inborn Voice
and Mylena Vocal Coach: