Inborn Voice reviewed by the Cumming Center Client Business Profile
Today on the local Newspaper "North-shore Magazine" has been published a review as a "Client Business Profile" for the Cummings Center in Beverly.
I'm proud of this little review, so I post it here.
Here is what is says:
Inborn Voice provides one-to-one coaching and delivers seminars, workshops, and retreats on a number of topics related to voice, including speeches, presentations, communication, teamwork, networking, personal impact, leadership, confidence, marketing, presence, and vlogging. With a background in both the technical and artistic disciplines, Inborn Voice provides training that is memorable, practical, and effective. Vocal coach Mylena Origgi is a transferable soft skills trainer and writer who works in individual and team settings.
"I run a studio in Milan, Italy, one in London, and one here at Cummings Center. For me it was crucial to find a modern facility ready to help me take care of my clients both online and in person. Here, I am also surrounded by skilled businesses, so I don't need to go anywhere else to find all the services I need to run my international business."
Here is the scan from the NewsPaper: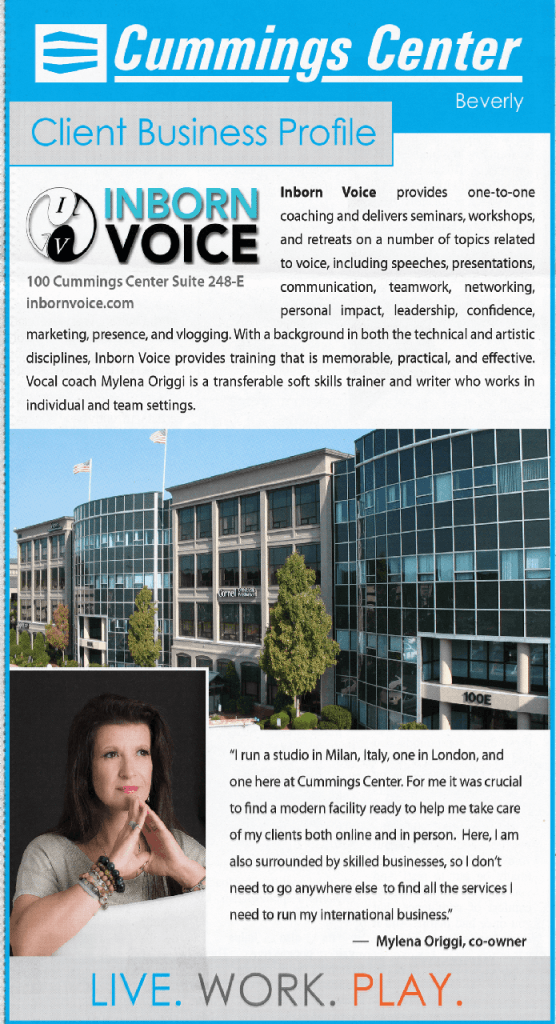 We offer world-class training to improve your personal, social and business communication skills. We specialize in presentations, leadership, media training, interviewing and Executive speaking.
Inborn Voice shapes tomorrow's leaders.

Leaders choose Inborn Voice
Any questions? We'll get back to you!
Are you looking to improve your voice with individual lessons, classes, or have any questions?
Fill out the form below!
Learn more about Inborn Voice
and Mylena Vocal Coach: