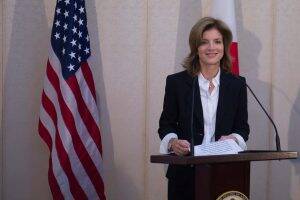 Do you often speak in a style that often had the words like, you know and weird pauses of um? Try counting the number of those words when you make a speech. You would be surprised by the way you speak can hold you back in your career. It distracts people to truly hear your message and ideas. Due to the habit of ending sentences with an upward inflection, it displays a lack of confidence to your audience. There is also a possibility that your clients may cancel a job due to your speaking style.
Remember the failed Senate bid of Carolyn Kennedy in 2008? Kennedy seemed unable to attract the audience and articulate her ideas without saying you know". As you rise up the corporate ladder, the bigger the spotlight and expectation.
In order to change your speaking style to sound more professional, here are some easy steps:
Take a video of yourself. Make sure you are aware of the ums, likes, and you knows. A co-worker or a higher level professional can give you advice on how to improve.
Study the speaking styles of politicians or business leaders. Today, there are many top-notch leaders that you can study from. Take a look at the speeches of Barack Obama, Howard Schultz, Indra Nooyi, and the higher-ups at your company. Make a note on how they pace their speech and when to pause. Notice how they deliver their ideas to attract the crowd in front of them.
Join Inborn Voice. Voice & speech lessons are offered to anyone who would like to improve their speech effectiveness for interviews and public speech in the areas of Beverly, Salem, Peabody, Danvers, and internationally through online classes.
In the end, it's not about copying someone else's speech style, but to take the elements that make them successful. It's still about delivering your own unique ideas and using those elements to attract the crowd.
Contact Inborn Voice now to become truly professional at interviews and public speeches.