Class: Vocal Coaching focused on improving social and emotional relationships
By Mylena Vocal Coach 2 comments Online Course Socialization, Online Lessons
This class is offered several times a month and is held directly by Mylena Vocal Coach in English. If you want to attend this or other classes you must pre-register using the form below.
Once pre-enrolled, you will be contacted by our staff who will take care of everything related to your needs and concerns about voice expressiveness and communication skills. You will also be sent the programs and dates of the next available classes.
Below you will find the program of the last course just ended, always updated.
Date of last class
Wednesday 06 December 2023
Schedule of the event
8:00 – 10:00 PM EST (New York)
Price of Classes:
$199.00
Last event details
Live streaming class in English run and conducted by Mylena Vocal Coach.
Wednesday 06 December 2023 – from 8 to 10 PM
Every day we meet new or already known people, but with whom we would like to deepen the relationship to see if a friendship or something deeper can be born. Whether your difficulty is finding and maintaining friendships or romantic relationships, voice definitely plays a major role in your chances of success. You must learn not only not to lie to yourself and others, but most importantly, to listen.
With over thirty years of experience in the professional field, Mylena will put the skills and expertise of multiple professionals at your disposal during this two-hour course. It will be a first step in making you a more interesting and involved person in the social lives of those around you.
The course is online and is open to everyone, even those with severe social anxiety. Each course is tailored to the needs of participants, even in terms of day/time and will be primarily a practical experience related to the Inborn Voice method: it will see everyone involved in both personal and group exercises.In the business world, from the first job interview to making a career, your voice, your ability to express your skills and expertise, to present your research or products while passionately emphasizing the positives, are crucial. It's important to present yourself to a client, supplier or employer in the best possible way, not so much in your attire, but just in how you speak and express yourself.
To enroll in one of the upcoming courses you just have to pre-register by filling in the form below . Pre-registration is non-binding and our staff will follow up with you to ensure a tailored experience!
Here is the typical lineup for this course:
Schedules may vary
Welcome greetings to everyone
Brief introduction to Professional Voice Training by Mylena Vocal Coach .
Start of the practical session with the assignment of exercises to be performed in groups or individually.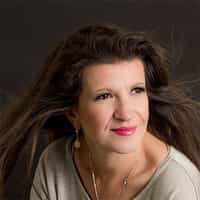 Milena Origgi
aka Mylena Vocal Coach, has been fighting for more than thirty years to affirm the indissoluble bond that exists between the emotional sphere and the voice.
She is the founder of Inborn Voice®, an innovative vocal coaching method that focuses on removing what has been learned so far that is counterproductive and hinders personal expressiveness, and not on teaching obsolete and potentially dangerous phonatory techniques.
Born in Busto Arsizio (Italy), she began her career with her first studio in Milan. Her fame then spread across the English Channel, leading her to open a second studio in London. Finally today she lives and works in her third studio in Boston (USA).
Hshe has written several books and with her latest, " The way of the voice: a secret hidden on everyone's lips ", she explains why the voice is the best hidden secret of so many people who have achieved success in both their personal and professional lives. With the book " The Voice Guru, stories of magic and rebirth " there are 16 different testimonials from around the world of personal and professional successes achieved through the Inborn Voice method and the help of Mylena Vocal Coach.
How do you get involved in the next group course on Vocal Coaching focused on the needs of business, commerce and marketing?


Just pre-enroll by filling out the form below . The pre-registration is not binding. Once pre-registered you will be contacted by our staff at the email address you provided, so make sure it is written correctly!
We will find a way to satisfy all your requests and needs, even in terms of availability of day/time.
Class attendance is open to all. The pre-registration is not binding.
All communication will be made to the email address you used to register.
You will not receive phone calls and we will send texts only in case of emergency.
We offer world-class training to improve your personal, social and business communication skills. We specialize in presentations, leadership, media training, interviewing and Executive speaking.
Inborn Voice shapes tomorrow's leaders.

Leaders choose Inborn Voice
Any questions? We'll get back to you!
Are you looking to improve your voice with individual lessons, classes, or have any questions?
Fill out the form below!
Learn more about Inborn Voice
and Mylena Vocal Coach: