Why President Barack Obama is One of the Greatest Speakers in the World?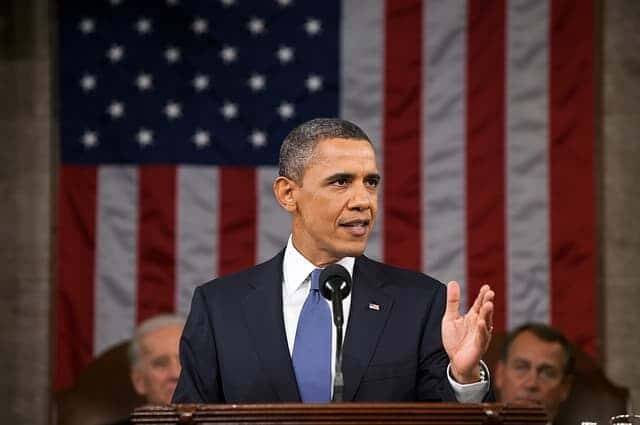 Ever since Barack Obama came on to the public spotlight when he ran for the Presidency of the United States, people are often amazed by his public speaking abilities. He may not write all the speeches he addressed during his political career, however, he has certainly delivered his ideas across people's minds effectively. With that ability, it helped him to win the majority of the popular vote twice. He was the first Democratic president since Franklin D. Roosevelt to do so.
Here are three things that made Barack Obama a great speaker and how you can learn to be just as effective:
Contrast a problem and a solution. He makes people trust him by making contrasts on a problem and solution. These contrasts usually move the audience deeply and quickly. For example, "You hit singles, you hit doubles; every once in a while we may be able to hit a home run."
Repetition. It is no longer a surprise that politicians like Barack Obama love to use repetitions because they can make your messages and ideas more memorable. In fact, he loves to use a rhetorical technique called anaphora, repetition of a phrase at the beginning of several sentences. ""You'll hear the determination in the voice of a young field organizer…You'll hear the pride in the voice of a volunteer…You'll hear the deep patriotism in the voice of a military spouse…"
Pace and volume. Many excellent public speakers pace and control their volume of their speech very effectively. Sometimes, he slows it down, lower the volume to expect reactions from the crowd. He can also speak at a high volume and speak faster to let people know the importance of his sentences.
If you can mastermind these three tips along with the assistance of a public speaking and speech coach at Inborn Voice, it won't be long before you can deliver your speech and grasp the attention of your audience effectively. Contact Inborn Voice for more information on how to improve their public speaking ability. Inborn Voice serves the residents of Beverly, Salem, Danvers, Peabody in the Beverly Cummings Center and internationally via online lessons.
More free training in my Vocal Coaching Youtube Channel!
We offer world-class training to improve your personal, social and business communication skills. We specialize in presentations, leadership, media training, interviewing and Executive speaking.
Inborn Voice shapes tomorrow's leaders.

Leaders choose Inborn Voice
Any questions? We'll get back to you!
Are you looking to improve your voice with individual lessons, classes, or have any questions?
Fill out the form below!
Learn more about Inborn Voice
and Mylena Vocal Coach: